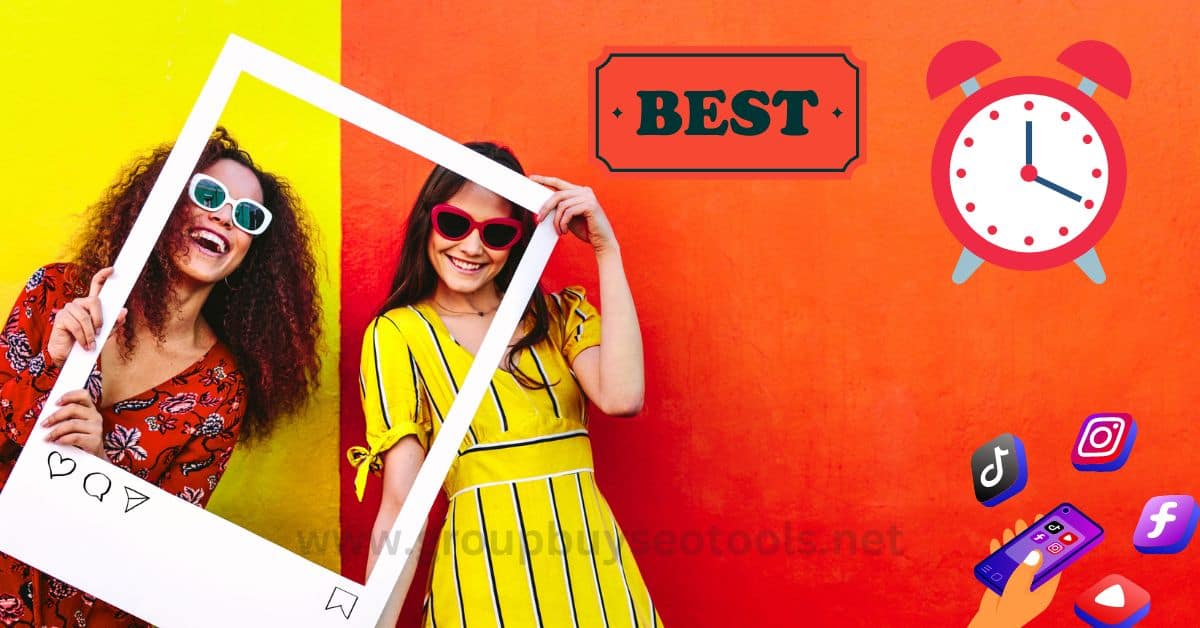 Table of Contents
Best Times To Post On Social Media
What is Social Media Marketing?
In this lesson, I will discuss the best time to post on social media in 2024. Social media marketing uses platforms like Instagram, Facebook, and Twitter to market your business and products. This involves creating engaging content tailored to specific platforms to assist in building your brand, increase web traffic, and boost revenue.
Social media marketing utilizes platforms to market and promote the products and services. It comprises posting and developing content on Facebook, Instagram, Twitter, LinkedIn, and YouTube to reach and engage the target audience.
The primary objective of social media advertising is to boost brand recognition, drive web traffic, create leads and eventually increase sales. It lets businesses interact with their customers more intimately by participating in conversations, responding to messages and comments, and delivering relevant content. Social media marketing allows companies to gain customer insights by analyzing and tracking data.
In the digital age, organizations need social media marketing. It's a cost-effective strategy to reach a large public, increase brand loyalty and stay in touch with customers in real time.
The best five social media platforms (for the time being) are:
Social media networks are digital communications platforms and websites that permit users and companies to create, share and exchange information, material and ideas to an extensive audience. These platforms let users communicate with each other, participate in discussions, and communicate using various media, including videos, text, images and hyperlinks. Social media is now an integral element of modern-day communication, and it significantly influences how people communicate, connect, and consume content.
Social Media Marketing In 5 Minutes | What Is Social Media Marketing?
Facebook
As of the first quarter of 2021, Facebook has reported a total user base of approximately 2.8 billion monthly active users. This statistic covers people worldwide who use Facebook to meet friends and family, exchange updates, and interact with content.
It is worth noting that this figure represents the overall user count across all Facebook-owned platforms, including Instagram and WhatsApp. These platforms have also experienced significant growth in recent years, contributing to Facebook's massive user base. With such many users, Facebook remains one of the most popular social media platforms globally, offering a wide range of features and services for its diverse user community.
Also read What is Facebook Marketing?
Pinterest
Pinterest lets users find, save, and organize photos and videos via their interests. Users can create customised boards and save web stuff and other Pinterest users' content. You can search for subjects or browse fashion, home décor, cooking, travel, and more.
Each image or video on Pinterest is called a pin, which can be clicked on to view more details or visit the source. Additionally, Pinterest offers features like suggested pins based on user preferences and the ability to follow other users with similar interests.
Overall, Pinterest provides a visually appealing platform for individuals to explore inspiration, ideas, and creative content in a highly organized and customizable manner. Whether you're looking for DIY projects, outfit inspiration, recipe ideas, or simply want to curate your virtual vision board, Pinterest offers an extensive collection of visual content for users to discover and save.
The latest data shows that Pinterest has over 400 million users worldwide. This figure includes private users and businesses who use the platform to find and save ideas for various topics like fashion and cooking, home decor travel, and much more. The number of users on Pinterest is growing steadily, which makes it a sought-after site for ideas and findings.
One of the primary reasons behind the popularity of Pinterest is its ability to appeal to a broad spectrum of interests and demographics. Pinterest users can make boards to keep track of their saved content as well as follow other users on particular topics they're interested in and interact with pins by commenting, liking or saving them to be saved for future use. With its attractive interface and simple-to-use features, Pinterest is now a place for many people looking for ideas or looking to show off their creations.
Top 20 Tips You Need To Know To Improve Your Pinterest Marketing Strategy
Instagram
Instagram features a whopping billion users, and the number is steadily growing. It's trendy for younger users because they know more about imagery than words and audible cues.
Instagram allows users to share videos and photographs with followers. It was first launched in 2010 and has since evolved into one of the most well-known social media platforms worldwide, with over 1 billion daily active users.
On Instagram, users can upload pictures and videos, add filters and edits and then share them with their profile or followers. Additionally, they can add captions, tags, and information about their posts' location. Users can submit lengthier movies to IGTV and publish photographs or videos to stories, which vanish after 24 hours. People utilize Instagram to share personal photos and videos, as well as influencers and businesses for marketing.
Also read Powerful Instagram Marketing Tips For Beginners in 2023.
LinkedIn
With 849.6 million users ( last Update July 2022), LinkedIn may be a platform that caters to all or any age groups. Nowadays, a physical resume isn't enough to urge employment. You've got to possess a web presence too.
LinkedIn is an online professional network platform that lets individuals communicate with colleagues and specialists in their area and potential employers. LinkedIn is a resume or profile on which users can highlight their abilities, work experience, and educational background. Users are also able to join specific groups for their industry and join discussions on their area of interest.
LinkedIn is for job searchers and employers seeking new hires. Employers can post jobs on the site and find candidates according to specific criteria, such as geographical location, qualifications, and previous experience. LinkedIn is a great place for professional networking, establishing relationships, and keeping you updated on industry news and trends.
LinkedIn is an effective tool that professionals can use to build an online profile, increase their network, and look into career possibilities within their sectors.
Also read 19 Powerful LinkedIn Marketing.
Twitter
Twitter remains a well-liked platform with 237.8 million monetizable daily active users( Last Update 2022). Why? Because whether it's world news or your favourite celebrities' thoughts, anything often becomes entertaining, digestible Tweets.
On Twitter, individuals can send short messages to their followers, called tweets. Tweets can contain up to 280 characters long, comprising text, images, videos, text and hyperlinks. Other users' tweets can be shown on followers' timelines. They can tweet, like, retweet or even reply to tweets.
Twitter is renowned for its speedy and real-time updates. It is commonly used for news and current event conversations and to share personal thoughts and views. There are millions of users worldwide; Twitter has become a well-known way for people as well as celebrities, companies and other organizations to connect and share information concisely.
Also read Twitter marketing tips.
Why is Social Media Marketing Important?
Several reasons make social media marketing essential. First, it lets businesses reach a vast and diverse public. With billions of Facebook, Instagram, and Twitter users, companies can reach global customers. This exposure could increase brand awareness and, ultimately, higher sales.
Additionally, marketing on social media allows specific advertising. Platforms such as Facebook provide advanced targeting options that allow companies to limit their audiences by preferences, demographics and behaviours. Conversions and engagement increase when businesses know their ads reach the right people.
In addition, social media marketing offers valuable insight into customers' behaviour and habits. With the help of analytics tools offered through social networks, companies can track metrics like posts' reach, engagement rates or click-throughs. These metrics can help businesses identify the type of content that appeals to their users and help them make informed choices about their future strategy for advertising.
Marketing via social media is vital as it provides an affordable way for companies to reach out to a large market, tailor their advertising efficiently and gain valuable insights into customers' behaviour. By leveraging these advantages that businesses enjoy, they can improve their brand's visibility and increase sales in the digital age.
Why is it crucial to know when is the best time to publish via social media?
Many people believe they are about posting once, or perhaps once a day – when they want to.
If you're trying to grab people's focus, you must ensure that your posts are seen by people when they're most likely to be engaged – and this is knowing when your audience is the most engaged.
If, for instance, your target audience is predominantly young adults likely to work during certain hours, then posting during their work day isn't the most effective way to get their focus.
Suppose you post about a sale on a Friday morning, but most of your customers are doing other things. In that case, they may overlook the sale until Saturday afternoon, when they've lost the opportunity!
Check out different times and determine which one works best for you.
"Best time" can mean different things for individuals. Therefore, you must figure out what is most effective for you. That involves trying various times and watching the impact they have on your interaction,
To achieve this, ensure that you post consistently, at the exact times, on different days throughout one to two weeks. Check your stats and determine what engagement you are getting regularly!
Number of social network users worldwide from 2010 to 2024
Facebook
Headquarters: Menlo Park, CA
Founded: 2004
Active Monthly Users: 2.96 billion Monthly active users as of the third quarter of 2022
Twitter
Headquarters: San Francisco, CA
Founded: 2006
Active Monthly Users: 237.8 million monetizable daily active users( Last Update 2022)
LinkedIn
Headquarters: Mountain View, CA
Founded: 2003
Active Monthly Users: 849.6 million users,( last Update July 2022)
Instagram
Headquarters: Menlo Park, CA
Launched: 2010
Active users: 1.3 billion Instagram users worldwide in 2022
Pinterest
Founded: 2010
Headquarters: San Francisco, CA
Active Monthly Users: Pinterest had 445 million monthly active users
Social media is one of the simplest ways to amplify your brand and therefore the great content you're creating. But it isn't enough to only post content to social whenever you are feeling love it. Some times are better than others.
Best Time to Post on Social Media
Facebook
Facebook is currently the foremost populated social media platform on the earth, with over 2.96 billion active users. It is sensible then that Facebook goes to possess the simplest opportunity for organic engagement.
Sprout points out that Facebook's algorithm changes over the last few years have emphasized friends, family, and a meaningful connection. Thus, content that drives genuine engagement goes to be your best bet.
The best time to post on Facebook:
The best time to post on Facebook is between 11 a.m. and 4 p.m.
The perfect day to post on Facebook is Wednesday. While Thursday, Friday, Saturday, and Sunday even have notably higher engagement rates.
The worst time to post on Facebook is each within the early mornings hours, and also, within the evenings. for instance, before 7 a.m. and after 5 p.m.
The poor day to post on Facebook is Tuesda
Twitter
Twitter is certainly a dominant social media platform with approximately 237.8 million monetizable daily active users. Although, beyond just an excellent number of individuals on the platform, there also are about five-hundred billion tweets made per day.
Thus, there's certainly the chance to plug your brand or business through Twitter. However, without understanding your audience, your tweet could also just be another blink within the system.
The best time to post on Twitter:
The best time to post on Twitter is between 9 a.m and 1 p.m. While Monday through Friday from 8 a.m. to 4 p.m. generates consistent engagement.
The best day to post on Twitter is both Tuesday and Wednesday.
The poor time to post on Twitter is between 10 p.m and 4 a.m.
The poor day to post on Twitter is both Saturday and Sunday.
It's estimated that LinkedIn currently has about 849.6 million members. which might be but both Facebook and Twitter.
Linkedin
Although, a stimulating figure is that over 80 percent of social media leads generated by B2B marketers are made via LinkedIn. Whereas, Twitter and Facebook only have 13 and eight percent respectively.
Hence, it shouldn't be surprising that 93% of B2B marketers feel that LinkedIn is currently the simplest place to win leads.
The best time to post on LinkedIn:
The perfect time to post on LinkedIn is between 10.00 a.m. and 12.00 p.m.
The perfect day to post on LinkedIn is Wednesday. While Tuesday and Thursday even have notably higher engagement rates.
The worst time to post on LinkedIn is during the weekends or after work hours.
Instagram
Instagram is supposed to be used on mobile devices. Approximately 60% of its U.S. users use the app daily, though it might appear that many engage with content more during off-work hours than during the workday.
The best time to post on Instagram:
On average, the simplest times to post on Instagram across industries are 1 p.m, and 5 p.m., during lunch and therefore the end of the standard workday, respectively.
B2B organizations have the foremost times of high-clickthrough rates to settle on from 12 to 1 p.m., 5:00 to 6:00 p.m., and whilst late as 8 to 9 p.m. when people are winding down for the day.
The perfect day to post on Instagram is Friday.
Pinterest
Pinterest users skew heavily female, and 29% of users are active on this channel on a daily basis. Contrasting many of the opposite channels we've listed here, evening commutes tend to be a number of the worst times to post to Pinterest. that would flow from to the very fact that it isn't as "browseable," with many pins requiring navigation faraway from the channel.
The best time to Post on Pinterest:
The perfect times to post on Pinterest are 8 to 11 p.m. and, interestingly, 2 p.m. to 4:00 a.m. this might indicate some interest within the platform in non-North American time zones, which suggests global content is all the more important here.
When should you post on TikTok in 2024?
TikTok is a well-known social networking platform that boasts more than one billion actively using members on a daily basis. It's a basic video-sharing program that's become popular. Brands are using TikTok marketing due to its quick growth and popularity.
Many organizations utilize TikTok to promote user-generated content, conduct hashtag challenges and contests, and cooperate with industry experts to assure marketing campaign success. Marketers focus on making engaging videos. Posting entertaining and relevant content at the correct time might boost your TikTok popularity.
Are you wondering when is the ideal moment to make a post in 2024 on TikTok for 2024?
PiPiADS Group Buy – #1 TikTok ads spy tool
Any questions or comments about content repurposing? Let me know on Twitter.